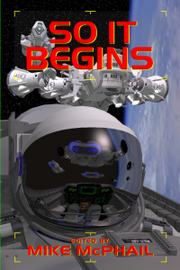 'Grendel' is a short story from the military science fiction anthology 'So It begins'. Grendel was written by Jack Campbell (John Hemry).
Grendel is set before the first novel of the Lost Fleet series Dauntless. It describes John 'Black Jack' Geary's last stand and the first move by the Syndics in what would start over one-hundred years of war.
Characters
Edit
Commander John Geary (Merlon)
Lieutenant Commander Cara Decala (Merlon)
Lieutenant Commander Lagemann (Pommel)
CEO Third Rank Fredericka Nalis (C-195)


The anthology So It Begins is available as paperback or kindle format.
Ad blocker interference detected!
Wikia is a free-to-use site that makes money from advertising. We have a modified experience for viewers using ad blockers

Wikia is not accessible if you've made further modifications. Remove the custom ad blocker rule(s) and the page will load as expected.